7 Magical Ingredients That Your Herbal Hair Oil Should Have
Posted by AROMATIC GARDEN ESSENCE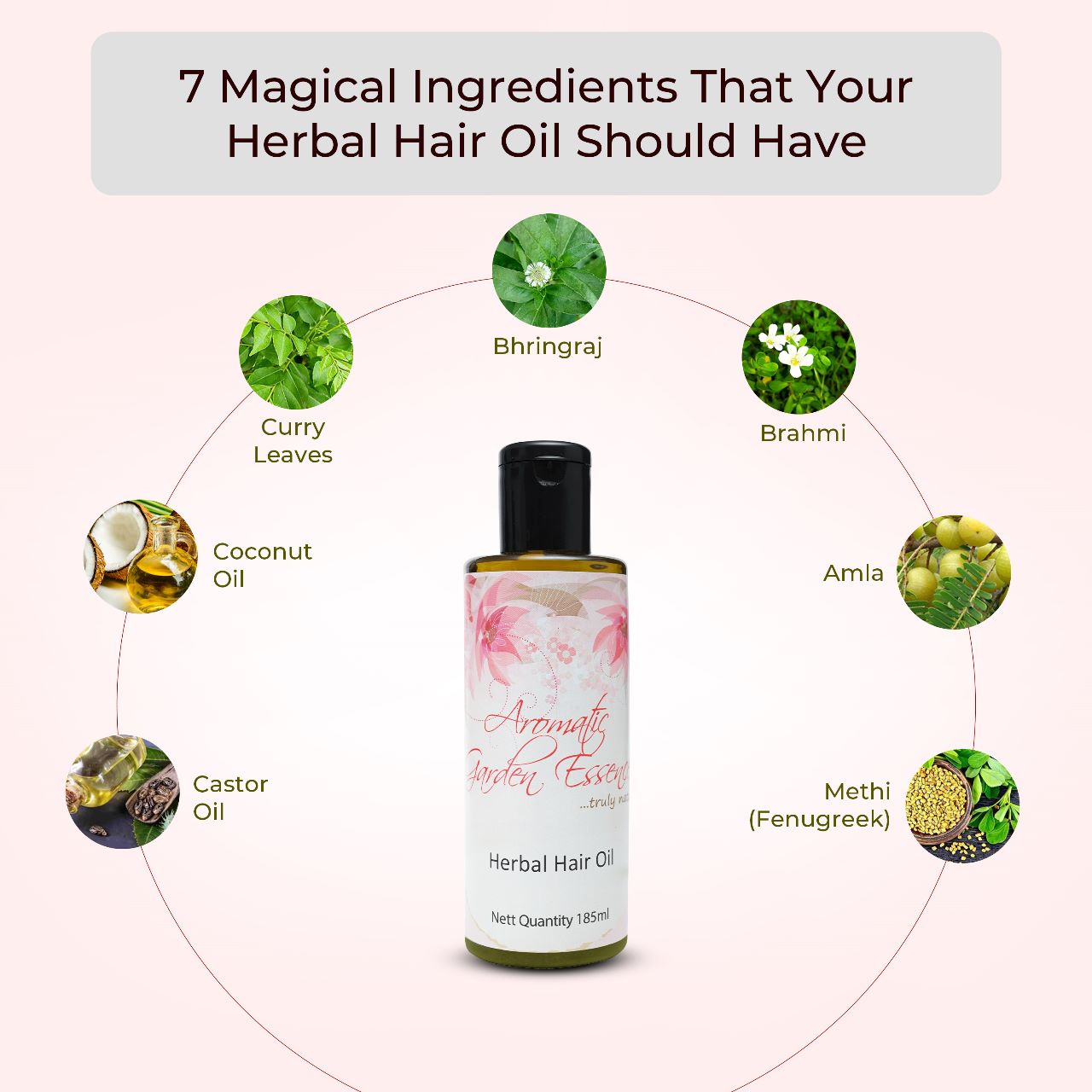 This is something that has happened to almost every one of us. Whenever our hair starts falling, we start making our own potions at home mixing a few herbs that we could find at home. Then after a few uses, when we do not seem to get results, we start to look for ready-to-use herbal hair oils.
Agree with me or not?
But, does your herbal hair oil actually contain any herbs or just made of artificial fragrances and colours. If you are looking for a good herbal hair oil, make sure to check that it contains these ingredients that have been known since generations for their miraculous hair benefits.

Bhringraj
Also known as Khesharaj, Bhringraj is an Ayurvedic herb that offers several benefits for hair health. Its regular use can promote hair growth, prevent premature greying, condition hair, and treat dandruff and scalp issues. Bhringraj can also help strengthen hair, soothe scalp irritation, reduce damage, improve blood circulation, and nourish the scalp.
Brahmi
Brahmi comes packed with hair and scalp nourishing properties that can help promote hair growth and reduce hair fall. Brahmi can strengthen the hair, making it less prone to breakage and split ends. The herb's antioxidant properties can protect the hair from damage caused by environmental factors, such as pollution and UV rays. Additionally, Brahmi's calming effects on the nervous system can help reduce stress, which is known to be a significant factor in hair loss.

Amla
Amla or Indian Gooseberry is known for its high vitamin C content that can help to promote collagen production while strengthening hair follicles and promoting hair growth. Rich in many essential nutrients, Amla can help nourish the scalp, and prevent dandruff and dryness while also reducing itchiness and irritation. The antioxidant properties of amla can protect the hair from damage caused by free radicals and environmental pollutants, contributing to overall hair health and preventing premature greying.
Methi (Fenugreek)
Methi contains proteins and nutrients that can help in promoting hair growth as well as strengthen hair follicles and reduce hair fall and breakage. Methi also has moisturizing properties that can help in fighting dry and itchy scalp conditions and prevent dandruff. It also has natural moisturizing, antifungal and anti-inflammatory properties that can improve hair shine and manageability, while maintaining a healthy scalp environment to promote healthy hair growth.
Curry Leaves
Curry leaves are rich in vitamins, antioxidants, and nutrients, such as Vitamin C, Vitamin B, and proteins, which can help in cellular regeneration and support improved blood circulation in the scalp. These properties are beneficial for encouraging hair growth and enhancing overall scalp and hair health. The essential nutrients in curry leaves can also help prevent hair loss and even premature greying by providing deep nourishment to hair.
Coconut Oil
Coconut oil has deep moisturizing properties that nourish the scalp and hair, preventing dryness and reducing frizz. It can easily penetrate the hair strand, strengthening it from within and reducing protein loss. Regular use of coconut oil can help prevent split ends and breakage, promoting longer and healthier hair. Coconut oil is also packed with antifungal and antibacterial properties that can help maintain a clean and healthy scalp while reducing dandruff and itchiness.

Castor Oil
Packed with essential fatty acids, anti-inflammatory and antimicrobial properties, Castor Oil can help maintain a healthy scalp. Regular application of castor oil can nourish hair follicles, promoting stronger and thicker hair growth. It can also help deeply moisturize hair strands preventing dryness and split ends and improving overall hair texture. Castor oil is also known to promote hair growth and reduce hair loss by increasing blood circulation in the scalp.
However, knowing these ingredients is not enough. It is very important to use a balanced proportion of these ingredients, or else they may not prove beneficial. However, striking the right balance is often difficult. Don't worry, AGE has a solution for you, AGE Herbal Hair Oil. AGE Herbal Hair Oil is made of 16 plus powerful ingredients, including Bhringraj, Brahmi, Methi (Fenugreek), Coconut Oil, Castor Oil, Amla, and Curry Leaves.
Oiling with AGE Herbal Hair Oil can help reduce hair fall, promote hair re-growth, and speed up the process of hair regrowth. It does not contain any artificial fragrance or colour, silicon or alcohol, and is made after 16 hours of slow cooking process. Packed with all the goodness of herbs and oils, AGE Herbal Hair Oil can give wonderful results if used on a regular basis.
So, When Are You Giving Yourself a Relaxing Champi with AGE Herbal Hair Oil?
Join AGE Community