A Body Care Regime Dedicated to All the Teenagers
Posted by AROMATIC GARDEN ESSENCE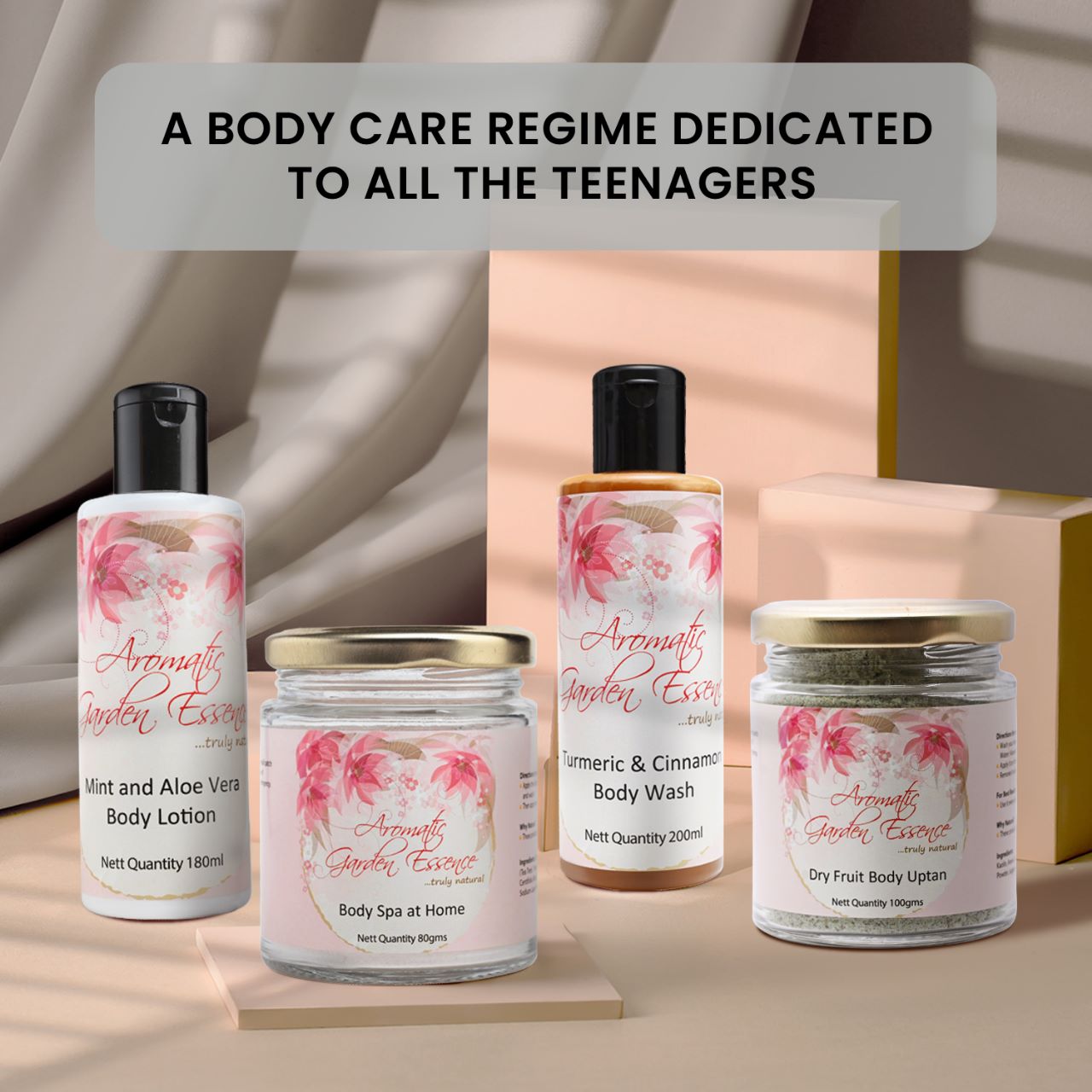 Do you want your teenage kids to develop a good habit of taking care of their bodies? Do you want them to learn the mantras of Hygiene and Selfcare?
I know you will say YES. But as you may already know, the earlier you start a good habit, the stronger it becomes with time.

So, the time to help them take on this good habit is NOW.
 
AGE knows that you would not compromise on the quality of the products your kid would be using to take care of their body. This is why AGE has come up with a Solution that all parents are in love with.
 
Here's a Body Care Regime that has been specially curated for Teenagers.
 
STEP 1: AGE Turmeric & Cinnamon Body Wash
AGE Turmeric & Cinnamon Body Wash is a magical mix of natural herbs and oils, that gently cleanses your body and removes all the impurities, including sweat & sebum without disturbing the oil balance and protective layer of the skin. Natural ingredients like Turmeric and Cinnamon are rich in anti-fungal, anti-bacterial, and anti-inflammatory properties that can prevent body acne and skin inflammation.


How to use?
1. Apply a few drops of AGE Turmeric and Cinnamon Body Wash. Gently rub to clean the body.
2. Then rinse it with plain water.

STEP 2:  AGE Body Spa at Home & AGE Dry Fruit Body Uptan
This ultimate combination of AGE Body Spa at Home & AGE Dry Fruit Body Uptan can prove to be highly beneficial for your teenage kids, especially those who like to be out in the sun more, and have suntan, dark underarms, elbows, and knees. All you need is 30% AGE Body Spa at Home and 70% AGE Dry Fruit Body Uptan. Mix it together and keep it in a glass jar in your kid's bathroom. Ask them to use this on alternate days that is, not more than 2-3 times a week. This mix will not just help them gently remove dead skin cells from the body but can also moisturise it and remove tan and uneven skin tone.



How to use?
1: Take some mixture of AGE Body Spa at Home & AGE Dry Fruit Body Uptan.
2: Mix it with plain water or rose water to form a paste.
3: Apply on your body & leave it for 2-3 minutes.
4: Take some water in your hands, and gently take off the mixture by massaging in circular motions.
5: Rinse with plain water.
Note: Do not use this mix for more than 3 times a week.
 
STEP 3:  AGE Mint & Aloe Vera Body Lotion
AGE Mint & Aloe Vera Body Lotion is a great addition to your Teenager's Body Care Regime, as it is loved and trusted by many families across India & Abroad.  Infused with the goodness of natural ingredients like Mint & Aloe Vera, this body lotion can keep skin moisturised, so that your kid's skin can stay hydrated and supple all day long. The cooling sensation from mint can keep their body feeling fresh and cool, especially in hot summers.


How to use?
1: Take some AGE Mint & Aloe Vera Body Lotion.
2: Apply it all over your body.
 
This simple Body Care Regime can help your teenage kids slowly develop the habit of hygiene and body care, which will set a foundation for Self-Care Habits. Your teenage kid will love it, as this Simple Regime can give their body a boost of instant freshness after a long study session, play, or any other tiring activity.
Join AGE Community