Hair Care Steps to Follow Before & After Going for a Swim
Posted by AROMATIC GARDEN ESSENCE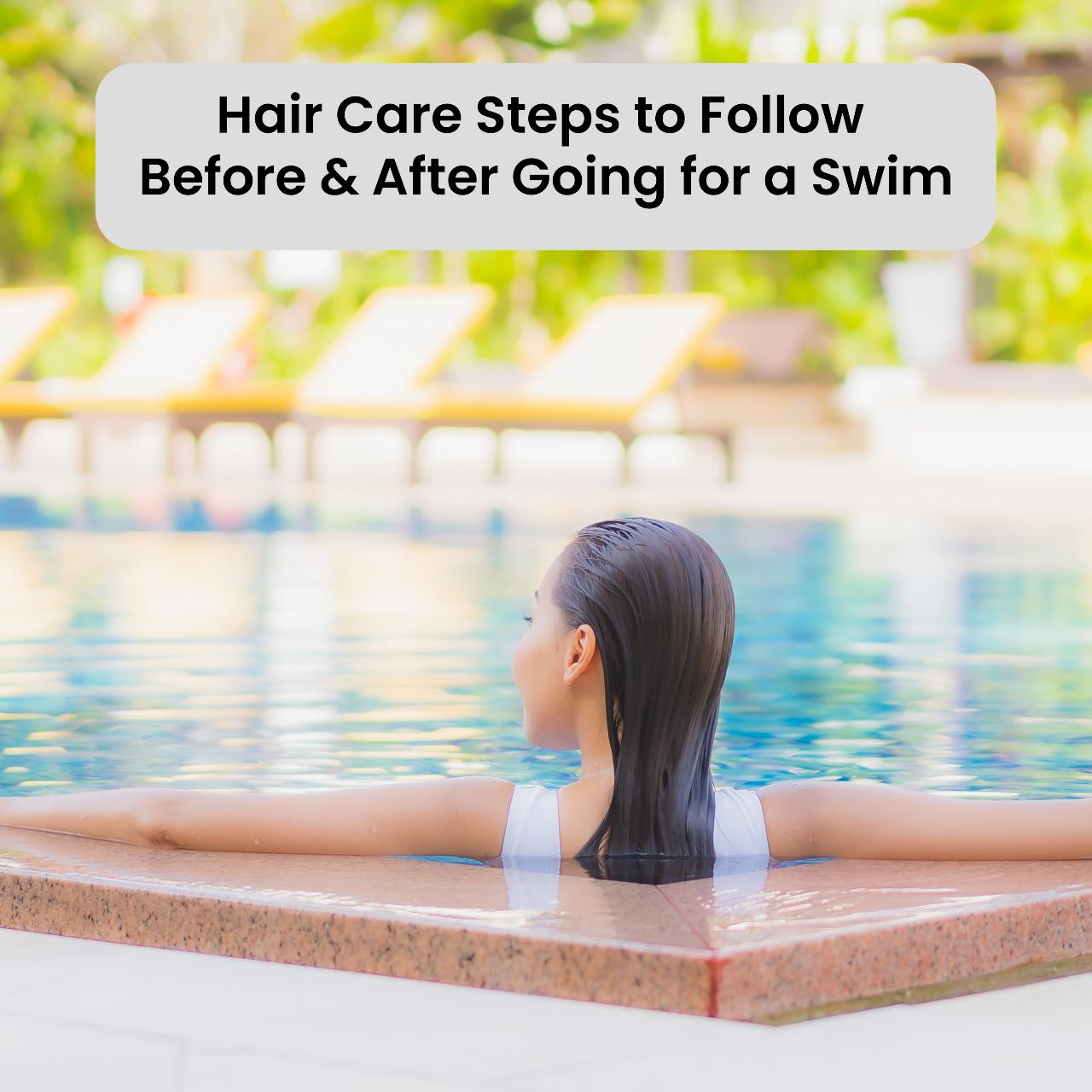 I know how much you love that refreshing dip in a swimming pool on a hot summer day. But do you feel your hair feeling dry, brittle, and rough after the swim? It does, right?

It is likely due to the presence of chlorine in the pool water. Want to know what happens when you take a dip in a pool of chlorinated water?

Allow me to tell you.

Chlorine is a powerful Chemical that has the ability to strip away the Natural Oils present in your hair. These oils act as a protective barrier, keeping your strands moisturised and healthy. When chlorine removes these oils, your hair becomes more vulnerable to Damage, Leading to Dryness, Frizziness, and Brittleness.

Chlorine can also break down the Protein structure (keratin) in hair, resulting in Weakened hair Strands that are prone to Breakage. Chlorine can also make your hair more porous, preventing your hair to retain Moisture, and Causing Hair to become Dry, Dull, and Lifeless.

Yes! you read that right! But this doesn't mean that you should stay away from the pool and stop swimming. AGE has a simple SOLUTION using which you can enjoy swimming as much as you want as it does an Amazing job at saving your Hair from Chlorine Damage.
 
Just two simple steps and you are good to go. Here are they:
 
STEP 1: Pre-Swim
 
Before you step inside the pool, apply AGE Hair Spa for Dry and Damaged Hair from root to tip. Along with nourishing your hair, AGE Hair Spa for Dry and Damaged Hair also acts as a shield for your hair against chlorine in pool water. It will not let harmful chemicals or even hard water enter your hair.
STEP 2:

Post-Swim
Once you are done swimming to your heart's content. It's time to wash your Hair with plain water and apply AGE Hair Conditioner. AGE Hair Conditioner comes packed with powerful moisturising properties that is formulated to restore moisture and strengthen hair. It can prevent dryness and keep your hair hydrated. This conditioner is a protein rich cream that is Silicone-Free, Prevents Frizz and makes Hair more manageable and easy to detangle.
Carry AGE Hair Spa for Dry and Damaged Hair & AGE Hair Conditioner whenever you go for a swim and your hair will thank you for that. By following these 2 simple tips mentioned above, you can minimize the negative effects of chlorine and keep your hair healthy and beautiful. So now, dive in, have a blast, and protect your precious hair at the same time!
AGE Clients also Loved.

  Join AGE Community