Why Should You Consider Switching Body Wash with AGE Body SPA at Home?
Posted by AROMATIC GARDEN ESSENCE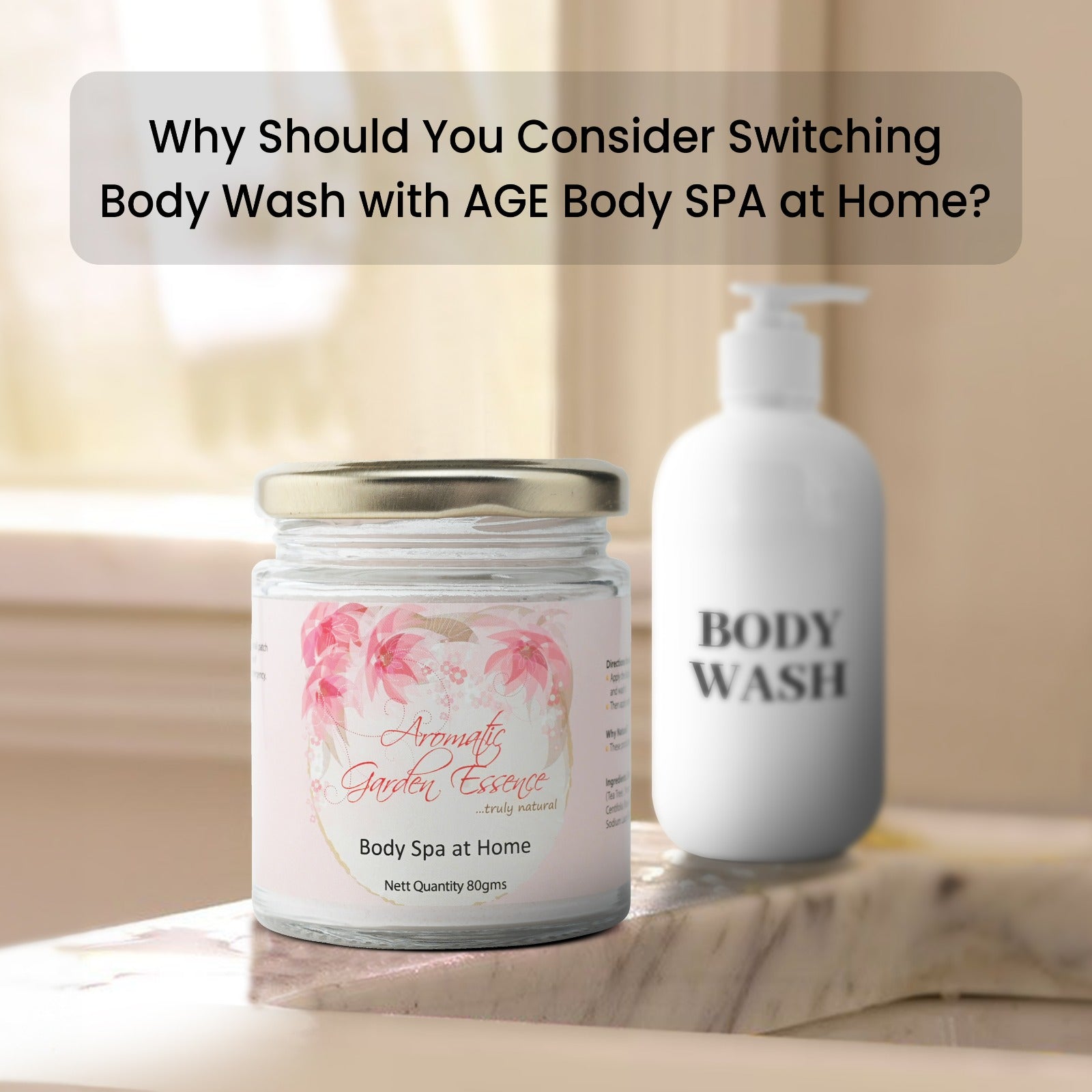 After reading the title, you must be wondering what's so amazing about AGE Body Spa at Home and why I should switch it with my regular Body Wash.

Let me tell you a SECRET here.

AGE Body Spa at Home is a magical and luxurious product that does much more than just cleaning your body.
Want to know what it can do? Allow me to explain.
But, before I tell you more about AGE Body Spa at Home, take a moment and answer these questions.
Your body wash may do a fair job of cleaning your body. But…
Can it add glow to your skin?
Can it gently scrub away your dead skin cells?
And now, the million rupee question. Can it remove the tan?

NO, right!
But, AGE Body Spa at Home can do all that. Yes, you heard that right.  
All you need to do is mix it with plain water. Apply it on your body, scrub gently, and see the magic happen.
 
After you start using AGE Body Spa at Home, the first thing you can notice is a visible difference in the texture of the skin. Secondly, you may notice that your tan has lightened and your skin is glowing. Since it also contains a Magical Blend of Clays and other Natural Ingredients, it can Gently Clean Impurities from the Skin, like Sweat, Oil, Dirt, Dust, etc. while Nourishing the Skin.

That's not all. I have another secret to share with you.

You go to a salon for body polishing and spend thousands of rupees in a single sitting. Right! What if I tell you that you can get the same result at home? Yes! That's true. With AGE Body Spa at Home, you can get the same effect as Body Polishing at home. And if you use AGE Body Spa at Home religiously, you may not even need to visit salon for Body Polishing, as it can make your skin glow naturally.   
So, now you know why AGE Body Spa at Home is an amazing body wash alternative.

Now, remember this. By switching to AGE Body Spa at Home, I do not mean you go overboard and use the product daily. AGE Body Spa at Home is recommended to be used on alternate days, which means one day you will bathe with AGE Body Spa at Home, and the next day you will use your regular Body Wash. This way, you can get the additional benefits of AGE Body Spa at Home and achieve silky-smooth glowing skin.
AGE Clients also Loved.

Join AGE Community