Pre & Post Holi Skin & Hair Tips
Posted by AROMATIC GARDEN ESSENCE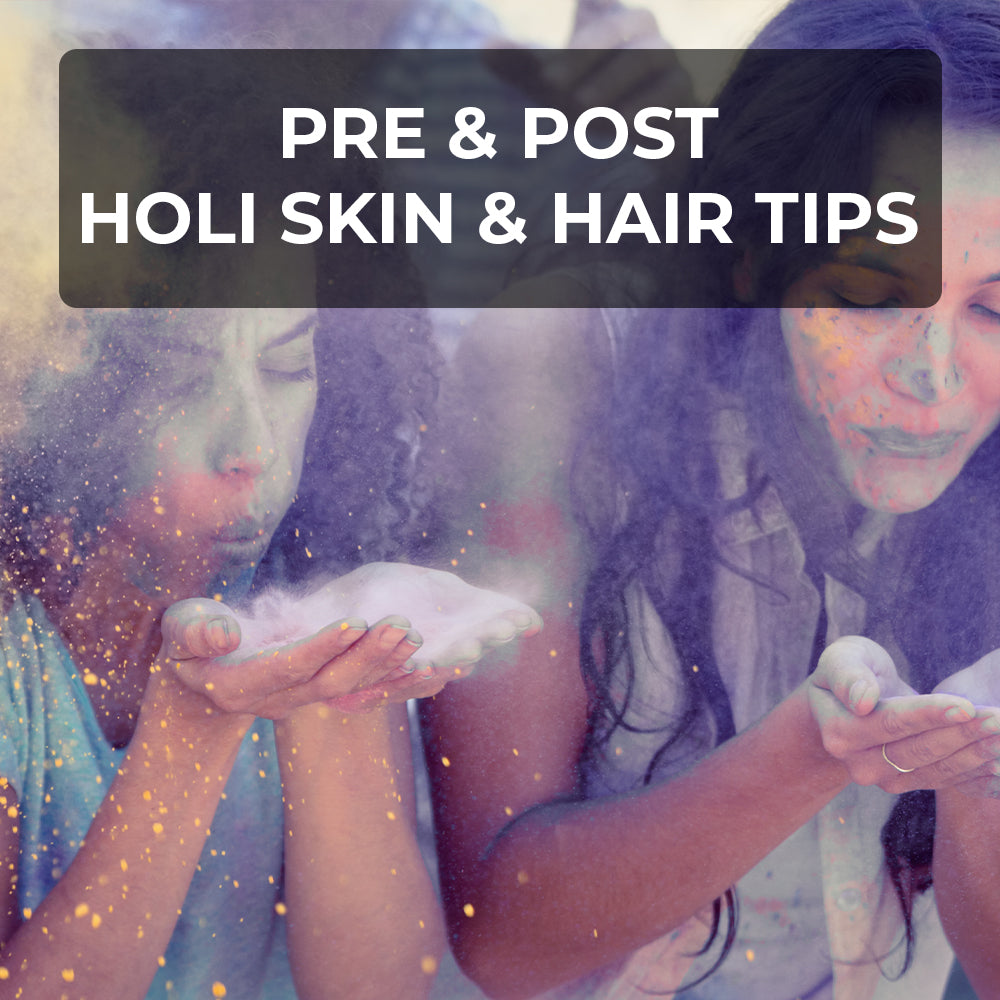 How To Prepare Your Skin For Holi

Holi Tips🥰
Don't Let Colours Damage Your Hair or Skin This Holi.

Don't Forget to Do The Following, Before You Step Out of The House To Play Holi:

#1: Oil your hair beforehand, as AGE's Herbal Hair Oil acts as a barrier against harmful chemicals and damage, also the Holi colour will come off easily while washing.


Style it up with a braided ponytail or a cool head bandana to shield it from damage while you have a blast. Your hair will thank you for the extra effort.

#2: Use a generous amount of AGE's Face Body Butter/Moisturizer/Mint Body Lotion with Sunscreen all over your body, especially behind your ears and ear lobes as these are areas one tends to neglect.
#
3
: Wear dark colour-full sleeves cotton clothes. Synthetics would be sticky, and denim would be heavy once you have a bucket full of water splashed on you.
Also, the rule; the more you cover your body, the higher are the chances of saving your skin from colour harm.
#
4
: For lips, apply
AGE's Lip Balm
generously.
#
5
: Give your nails some love this Holi too! Apply
AGE's Cuticle Oil
before and after playing with colours to keep them from drying out. To prevent discolouration and damage, apply two coats of base coat or any nail polish. This will act as a protective barrier and keep your nails looking their best, even after the festivities are over!
#
6
: Don't get waxing, threading, facials, or skin treatment done at least 3-4 days before Holi.
#
7
: Use
AGE's Aloe vera Gel
, keep the bottle handy with you, just in case get some irritation from colour, this would act as a soothing agent. You can also freeze the Aloe vera Gel into cubes it will help in smoothing out the irritation.
#
8
: Do not scrub your face for two days, use
AGE's Cleansing Milk
&
Micellar Water
for removing the colours from the face. Skin can get sensitized due to colour and further subjecting it to something harsh may lead to damage. Use a gentle cleanser or oil on your skin to wash off all the dirt, colour, and other impurities. And remember, stay away from hot showers and saunas until all the colour has come off your skin and hair. AGE's Cleansing Milk or Oil Cleanser or Micellar Water is the best product to help you with this.
#
9
: It's best to remove colours when it's wet, as it is difficult to remove them after it gets dry. So as soon as you reach home, take a shower using AGE's Turmeric Body Wash.
#
10
: Apply our AGE's Mint and Aloe Vera Body Lotion two to three times on your body as the skin will be dry and apply the AGE's Aloevera Gel on irritated areas generously after taking bath. You can use the frozen Aloe vera Gel cubes to get rid of any irritation caused by colours.
#
11
: If you are attending a post-Holi Party, blow drying/curling/ironing your hair is a strict no-no. Avoid subjecting your hair to any treatment which will make it dry.
#
12
: For your face, you can use normal water to wash off the colours.
#
13
: Use Besan with Curd or Water or Raw milk (depending on the skin type) to remove the colour from your body.
Let nothing stop you from enjoying the festival.
Post Skin Care Tips:

How to reverse Holi Colour Damage on your skin?

Step 1: Apply AGE's Cleansing Milk to remove all the colour from your skin. Make sure you don't rub your skin too hard, as it can cause further damage.

Step 2: Once you've removed 70% of the colour from your skin, it's time to switch to AGE's Green Tea & Honey Face Wash. Massage the face wash gently onto your skin in circular motions, and then rinse it off with water.

Step 3: After all the colour and cleansing, your skin is likely to be dry because of Holi Colour. Now, apply a generous amount of AGE's Face Body Butter to your skin. This will provide deep hydration and nourishment to your skin, leaving it soft, supple, and rejuvenated.

So, there you have it! Follow these simple steps to reverse the Holi colour damage on your skin, and get back your beautiful, glowing Skin. HAPPY HOLI!

Post Hair Care Tips

Holi is Vibrant and Colourful and Most of Us Love to Play with Colours with Family & Friends.

A Few Steps to Make Sure You Play and the Colours Don't Harm Your Hair & Skin.

For Hair:

Step 1: Apply a Generous amount of Oil and Comb and Tie a Bun. If You Like to Keep Your Hair Open, then Apply a Generous Amount of Hair Spa for Dry and Damaged Hair.

Step 2: Once You are back after Playing Holi. Rinse Your Hair with Plain Water and then Shampoo it 3 Times. Now Apply Hair Spa for Dry and Damaged Hair and Conditioner, Massage and Tie a Bun and go to Sleep. After 2 Hours Rinse it with Plain Water. You will see 60% to 70% of dryness has gone away.

Do it Twice a Week and You will Love Your Hair Softness Again!!!