Why Do Clients Trust Aromatic Garden Essence?
Posted by AROMATIC GARDEN ESSENCE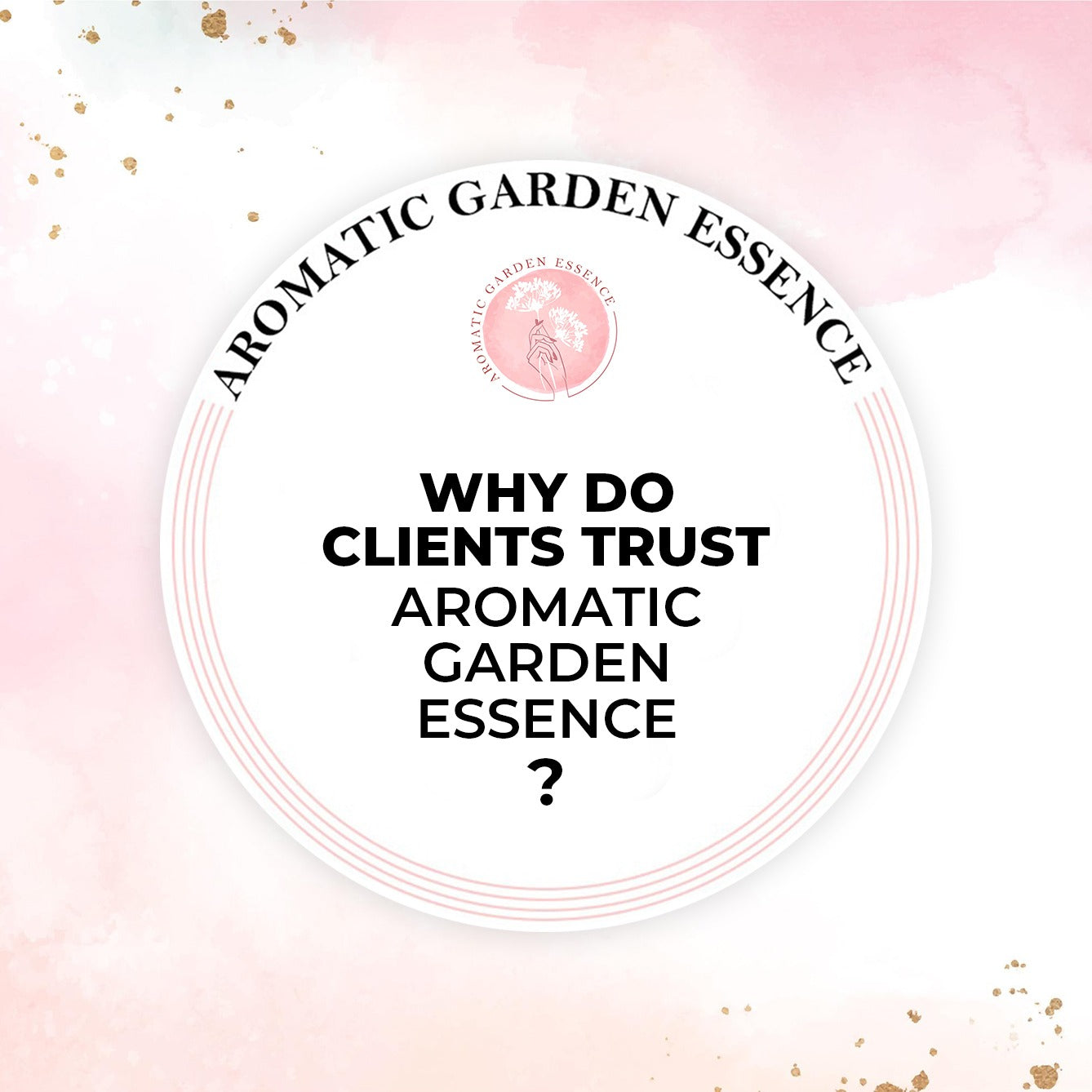 AGE always believes and says to their clients and readers that You should not make buying decisions only keeping the price in mind. Price is important, but Product Quality, Quantity, Effectiveness (after all you are paying hard-earned money for it), and Timely Delivery, all matter. And this is what makes AGE different and one of the most loved and trusted Skincare, Body Care, and Hair Care brands.


More than 2 Lakh and 30 Thousand Happy Customers, and COUNTING…are using AGE products today. Here, we will reveal the reasons, why clients love AGE and what made AGE one of the fastest-growing brands.

AGE Provides Holistic SELF-CARE Solutions

Aromatic Garden Essence, don't just sell products but provides holistic solutions for skin care, hair care, and body care. When we say holistic, it means AGE Skincare, Hair Care, and Body Care Regimes are curated to give you an end-to-end solution for all your concerns. There is a regime for every skin and hair type, which contains a number of products.

For example, Your Night Skincare Regime can be as simple as 4 steps: Green Tea & Honey Facewash, Cucumber & Papaya Face Toner, AGE Skin Love Serum, and AGE Night Serum, to recover and repair your skin, targeting skin concerns, like hyperpigmentation, dullness, signs of aging, etc. from within.

For Hair concerns, like Dry and Damaged Hair: AGE Lemon and Jojoba Shampoo, AGE Hair SPA for Dry and Damaged Hair, and AGE Hair Conditioner.

For Hair Fall: AGE Herbal Hair Oil, AGE Hair Mask, and AGE Hair Conditioner.

For Body Care problems, such as Dark Underarms: AGE Turmeric and Cinnamon Body Wash, AGE Dry Fruit Body Uptan, and AGE Body Spa at Home etc.

Just one AGE Self-Care Regime and you are sorted for life.

All-Natural Products

AGE decided to use natural alternatives such as Coffee, Clays, Spices, Herbs, Beetroot, Turmeric, etc. to create beautiful colours and fragrances without relying on synthetic alternatives.

This is what makes AGE products, so calming, gentle, and luxurious.

So, when you use AGE products, you can rest assured that all AGE products are of the highest quality.

After Sales Support

AGE is the world's first brand to introduce Skincare, Haircare, and Bodycare solutions, and After Sales Support.

AGE understands when a client buys a product, he/she might get confused as to how to properly use the product, which product should be used in what quantity, or sometimes become lazy, or have the tendency to skip or leave it to the next day. This is where AGE comes with a solution in the form of After Sales Support.  

AGE believes: Our actual work starts when clients make their first purchase from AGE.

Through After Sales Support, AGE educates clients on how to use AGE products the right way to get maximum results. By sending timely notifications to clients, AGE makes sure that you do not miss any part of your regime, slowly developing the habit of SELF-CARE, till the time you get used to the self-care routine and start feeling the skin-and-hair transforming changes yourselves.


Because AGE believes, SELF CARE is SELF LOVE.

 
Our Clients, Our Real Time Promoters

It's not just us saying, our clients' skin says it all; and when they glow and see visible changes, their friends and family join AGE Community. This is one of the reasons why AGE is growing 24X7.

Nothing can beat live results, and our clients are proof of that. No photoshopped images, just real people, who have used AGE products and seen amazing transformations themselves. By sharing their real story with people around them, AGE Clients have strengthened the credibility of AGE and made AGE, 2 Lakh 30 Thousand stronger.

Commitment to Quality Service  

Along with providing high-quality, luxurious products at competitive prices, AGE also focuses on areas of service, be it product effectiveness, quantity, or even delivery of the product. Every AGE product goes through a quality check and has been manufactured and controlled according to GMP, ISO, and FDA quality standards. AGE also makes sure that you receive the exact quantity of the product and not a gram less with prompt delivery.

After reading this, you know the secret behind AGE's fast-growing popularity and trust among its clients. Now, it's your turn to experience this yourself and see the wonderful results of AGE Self-Care Solutions.


AGE doesn't believe in over-hyped marketing and encourages clients to try the AGE Skincare Trial Kit before making any big purchase so that they can experience the quality and effectiveness of the product themselves while receiving proper guidance from After Sales Support. The AGE Trial Kit worth Rs. 690 is available to you at just Rs.350 and contains 9 HERO products for your skin, such as Cucumber & Papaya Toner, Green Tea & Honey Face Wash, Rose & Sea Buckthorn Day Cream, Night Serum, Honey & Oats Scrubber, Clay Mask, Chocolate Mask, Aloe Vera gel, and Face Body Butter.

When you have experienced the quality of the products, the results, and guidance from AGE After Sales Support, with confidence you can move on to buying bigger packs. If you still need help, simply talk to an AGE expert and get a perfect Skincare Regime curated for you.
Join AGE Community